Thursday:
I woke up at a friend's house in Vancouver
1
and then met up with 
@kyotoSeohyun628
 at the airport to fly out to Montreal at noon.
After the ~5hour flight I met up with teammates 
@Kaner_HS
 & 
Dexter (@TyTyWalsh)
 at the Air BnB in the evening and stocked up on groceries for the weekend.
The time change for me was +3 hours, which meant falling asleep at a decent hour was difficult.
1
: Shoutout to Nick, Claudia, and Austin for hosting me so often when I travel through Vancouver. It means a lot <3
Friday:
I arrived at the Venue just after 10am with a large tea and good feelings about the day.
Swiss Rounds started just after 11am. Time to get down to business.
r3 vs TerrenceM 




2-3





This was my first game on the big stage.




I had been cast on Firebat's stream twice before at Pros Vs. Joes a few months prior; but the stakes were higher this time around.




I don't feel like I was affected by nerves or anything like that, although I wasn't used to the lack of game sound & addition of white noise.




I felt underprepared for the priest vs Nzoth matchup, since it was not one that I had practiced going in to the tournament.




Despite losing that game I still felt favored to win the set after being up 2-1 but his paladin went off, and Terrence was able to take the set.





GGs 

@GFE_TerrenceM





  



Between round 4 and round 5 @akaWyf arrived at the venue.
I'm not saying it's connected, but I didn't lose another game in swiss after this point <3
r6 vs Kane




3-0




Priest Sweep!





I got revenge on my friend & teammate Kane, who I have played twice before in a side event after Winter Playoffs.




He went 2-0 against me in that tournament so I'm glad I could begin to even the score;

but it's unfortunate that it had to come during an important swiss round at a DreamHack Major.

GGs @Kaner_hs

  



I finished up day 1 with 5-1 score, at this point it is already quite late so Kane, Dexter, Wyf & I go back to the Air BnB.
Time Change was still causing me trouble, and I managed to get about 6 hours of sleep.
Saturday:
We arrived at the venue at 10am again, and the general atmosphere was tense. There were a ton of people on the bubble; the entire RLB team were among them.
With 3 swiss rounds left I needed to win 2 matches to gauruntee top 8, but I could likely top with just 1 win and get in on my tiebreakers.
r7 vs Seohyun
3-0
Pirate Sweep!
Had to play another friend & memeber of my practice group.
I told him that we would both top regardless of who won, and that prediction came true!
Congrats to @kyotoSeohyun628 for finishing second overall.
r8 vs Iniesta8
3-0
Priest Sweep!
r9 vs Walaoumpa
3-0
Pirate Sweep!
I made it to Top 16 of #DHMTL17 with an 8-1 record!
I'll be playing @Tars_HS at 7:55 EST on https://t.co/vTPwfSC0Yh pic.twitter.com/drsIjVfhxs

— Teebs ✈️ LAX (@TeebsGaming) 9. September 2017
I ended up finishing 3rd in the Swiss standings. My game score (26-6, 81.25% Winrate) was the best Swiss record in recorded DreamHack history.

Shoutout to my practice group partners (marked with green dots) who also made top 16; Props to all of the other RoyalBlue players, who also made deep runs through swiss.

Top 16 vs Tars
2-3
I was on stream again for my top 16 match, which started quite late in the evening. I made a substantial misplay in the priest mirror, although I ended up winning that game despite the mistake. My intended outcome from this play was that the Lich King would kill the Statue, and the statue deathrattle would in turn kill the lich king. The problem was that Pint sized potion reduced the attack of the Lich King so that it did not kill the Statue, rendering the whole play incorrect. My initial 2 pings in to the Lich King should gone in to the statue so that the play would have worked. At this point I had been at the Venue for 12 Hours (and the same the day before) and Fatigue was 100% a factor.Regardless,
GG WP @Tars_HS

   




Now that the pressure was off, I went out to Meltdown with some friends, and after had some of Montreal's famous Poutine!
2:30am poutine run with some of the Hearthstone boys 🍟 🧀 🌀 pic.twitter.com/yBGqCMUzyl

— Wyf (@akawyf) 10. September 2017
Sunday; watching the Finals
I spent sunday watching both the Hearthstone and Starcraft playoffs, and had a great time relaxing at the venue.
When everything had closed down I went out for dinner at Kampai with @Luker_Hs @kyotoSeohyun628 @Ryder_hs @FutureShockhs

After dinner I met up with the Air BnB crew and headed for a night out. We stopped by a small bar to hang out with some SC2 Players before heading to the official DreamHack Afterparty.

The afterparty was absolutely legendary. I got to hang out with lots of friends from Hearthstone, made some new friends from SC2 and other gaming communities, and had a great time.
Y'all wanna know how last night went? #DHMTL17 pic.twitter.com/sSwPNqevDe

— HugS (@HugS86) 11. September 2017
Monday:
In the morning our group met up with Team Liquid Starcraft players & @Futureshockhs for tradtional eSports meal: KBBQ.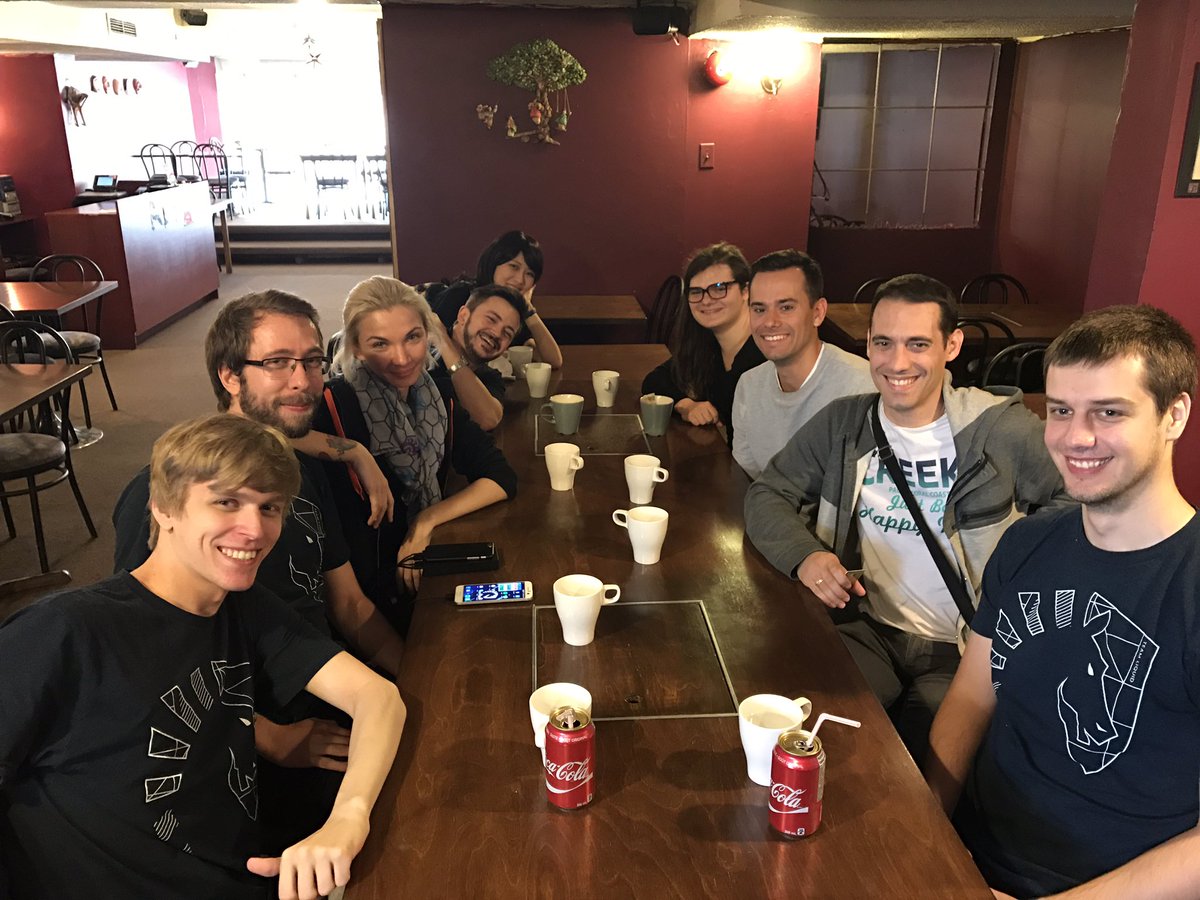 After lunch I caugh an Uber to the airport for my early afternoon flight.
This weekend was one of the best I have had.
From hanging out with friends & making new ones, exploring the venue and experiencing the city, and even finding success in the Tournamnet; DreamHack always proves to be an amazing time.
I can't wait to see everyone again at Denver!